In The News
STILL TIME TO 'STAY COOL' WITH MSE SUMMER HOCKEY!
Great ice times, low prices, competitive divisions and Metro Detroit's biggest selection of game nights and skill levels. That's Summer Hockey at Michigan Sports Enterprises, and there's still time to sign up and play!
We are now accepting late registration for both teams and individuals for the 2018 Summer Adult Leagues at Fraser Hockeyland, Mount Clemens Ice Arena and Kennedy Recreation Center in Trenton, including the Downriver Tuesday D League for beginner/novice players.
If you have a Summer team looking for a league, or if you're an individual player looking for a team, contact us ASAP at info@msehockey.com. Quick, secure and easy online registration with Visa, MasterCard, Discover or American Express is available here. Summer brochures are also available at Fraser Hockeyland, Mount Clemens Ice Arena, Kennedy Recreation Center and Southgate Civic Arena, or the brochures may be downloaded of the homepage of our website.
The Summer hockey season is quick, cheap and a lot of fun — the perfect way to stay on top your game while keeping cool in the Dog Days of Summer. We hope to see you on the ice!
THREE TEAMS COP THE CUP AT 2018 MSE SPRING TOURNEY
Twenty teams . . . three days . . . three divisions . . . and a "championship hat-trick" of three top teams. That, and a lot of fun, intense hockey, sums up the 2018 MSE Cup "Challenge of the Rinks" Spring Tournament, held Friday through Sunday, April 13-15, at Fraser Hockeyland in Fraser.
Following two days of preliminary play, six teams emerged to qualify for a spot in the Championship Final on Sunday in their respective brackets — Snipe City and Your Mother's in Gold; Light Em Up and the Whalers in Silver; and Average Joe's and Polar Ice in Bronze. When the final horn sounded Sunday afternoon, Snipe City had bested Your Mother's, 4-1; Light Em Up edged the Whalers 4-2; and Average Joe's topped Polar Ice, 7-1.
For complete tournament results, visit our STANDINGS page or just click HERE. Congratulations to our three champions, and thanks to all 20 teams participating in the 2018 MSE Cup Spring Tournament!
| | |
| --- | --- |
| | |
| 2018 MSE Cup champs in the Gold Division — Snipe City | 2018 MSE Cup champs in the Silver Division — Light Em Up. |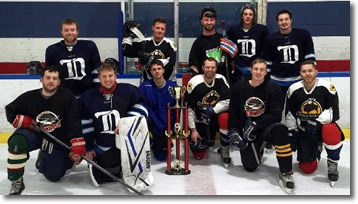 2018 MSE Cup champs in the Bronze Division — Average Joe's
A REMINDER: DRESSING ROOM SECURITY
It's always a good time to review some routine precautions all teams should follow when using the dressing facilities:
Lock the Room When You Leave It!
That's especially true when the dressing rooms are not visible from the ice surface — but it ALSO applies to arenas where the dressing rooms ARE visible from the ice. During the game, all eyes are focused on the action on the ice, not the dressing room doors. Thieves have been known to enter dressing rooms in full view of the players and spectators — and get away with it. And, remember that arena dressing rooms typically share a shower/lavatory facility with an adjoining dressing room. So, be sure to deny thieves the "back-door" access to your dressing room by securing the shower room door as well.
Don't Carry Large Amounts of Cash!
A full wallet is an open invitation to a thief. Players should carry a driver's license (in case there's a roster check) and enough money to pay for their ice — period. Large ice payments, of course, are best handled by a check or money order, and it's always wise to make any payment BEFORE the game — rather than leave a room full of cash when a team takes the ice. And treat your credit cards the same way you would a large amount of cash — leave them at home.
Don't Force Open the Doors!
If you find yourself unable to enter the dressing room, seek out a rink employee or someone from MSE. Don't try to force the door open! Not only will your team be responsible for the cost of repairing the door (which isn't cheap), a broken door is an inviting opportunity for a thief later on.
Return Your Keys!
We know it's a hassle to leave your car/house keys when picking up a dressing room key — but there's a reason almost all arenas do it. Having extra dressing room keys leave the building is an obvious security breach and an invitation to trouble. Remember to always return your key as you leave the arena.
Following these simple procedures should help to keep the dressing rooms secure and minimize the risk of anyone becoming victimized by a thief.
MSEHOCKEY.COM — 19 YEARS OLD AND STILL SETTING RECORDS!
Now approaching two decades old and faster and more functional than ever, the Michigan Sports Enterprises website continues to be "the" adult hockey online resource in Metro Detroit. Since it went live in April 1998, msehockey.com has logged more than 30 million total hits, including an all-time record of more than 800,000 in March 2017! MSE was the first adult hockey program in Michigan to provide its teams and players with online access to scores, standings, schedules, etc., and while the regular maintenance and updates aren't easy or inexpensive, msehockey.com has more than proven its worth to our teams over the years.
Remember, your team can become a part of our website for just $99 a year — that works out to about 27 cents a day and less than $2 a week! For that small expense, we'll link any team site to our "TEAM" page and give any one team sponsor a link to our "SPONSOR" page as well. If your team or your sponsor are interested in this and great and inexpensive opportunity to get some added attention and exposure, just drop us an e-mail at info@msehockey.com.