In The News
SIGN UP NOW FOR 2021-22 FALL/WINTER ADULT HOCKEY SCHOOLS!
Both Fraser and Trenton will once again host one of our popular Adult Hockey Schools this Fall and Winter! Registration is now open for the MSE 2021-22 Fall/Winter Adult Hockey Schools coming Friday evenings to Fraser Hockeyland in Fraser and Thursday evenings to Kennedy Recreation Center in Trenton.
The program runs for 10 weeks and is specifically tailored for men and women 18 and up with beginner, novice or intermediate skills. The Fraser School is scheduled to run from Nov. 5 through Jan. 21, while the Trenton School will run from Nov. 4 through Jan. 20.
Participants in the beginner program will learn the fundamentals of the game, while intermediates will have an opportunity to further develop their skills with the assistance of our experienced and knowledgeable hockey instructors. Each class begins with the 30-minute off-ice session and all participants will have the option of being placed on a team at the conclusion of the Schools in January.
Best of all, the price for all 10 classes — including ten 1-1/2 hour on-ice sessions, ten 30-minute off-ice sessions and practice jersey — is unchanged from the last dozen years at just $195. That price even includes a party and get-together at the end of the final class.
You can register online for the 2021-22 Fall/Winter Adult Hockey Schools with any major credit card here; download the brochure off our homepage; or request a paper copy by sending your mailing address to info@msehockey.com. Of course, you can also e-mail us with any questions you have about the program at any time. We hope to see you on the ice!
STILL TIME TO SIGN UP FOR MSE 2021-22 FALL/WINTER SEASON!
If you've got a team looking for a league — or if you're a player looking for a team — there's still time to register and hit the ice with MSE this Fall and Winter!
Late registration is now open for all four MSE 2021-22 fall/winter adult hockey leagues at Fraser, Mount Clemens, Trenton and Southgate, and both teams and individual players are welcome.
You can register online here, and the Fraser, Mount Clemens, Trenton and Southgate Fall/Winter brochures containing more info can be downloaded off our homepage. Got a question about the upcoming season? Email us at info@msehockey.com or give us a call anytime at Fraser. (586) 296-7987; at Mount Clemens, (586) 868-7371; or at Trenton/Southgate, (734) 676-3761.
We hope to see you on the ice in September!
REAL GREEN, STAMMER TIME COP THE CUP AT 'LAST CHANCE' TOURNEY
Congrats are in order to the Real Green and Stammer Time squads for emerging as the winners at the MSE 2021 Last Chance Tournament, held Friday through Sunday, June 11-13, at Fraser Hockeyland.
Four teams squared off on Sunday in the Bronze I championship and Bronze II consolation games. When the final horn sounded, a final empty-net goal yielded a close 5-3 win for Real Green over the TDL Vipers in Bronze I, while Stammer Time bested the Detroit Kingz, 6-1 in Bronze II.
For complete tournament results, visit our STANDINGS page. Congratulations again to our two champions and runners-up, and thanks to all the participants in the 2021 MSE 'Last Chance' Tournament!
2021 MSE Cup Last Chance Tourney champs in Bronze I
Real Green
2021 MSE Cup Last Chance Tourney champs in Bronze II
Stammer Time
FIVE TEAMS COP THE CUP AT 2021 MSE SPRING TOURNEY
Three days of fun and intense hockey over a record of 50 total games produced five champions in the 2021 MSE Cup Spring Tournament!
Held Friday through Sunday, March 26-28, at Fraser Hockeyland in Fraser, the tourney featured numerous entertaining and memorable contests. No fewer than 11 of the 45 games in the preliminary round went to 3-on-3 overtime, and each rink was buzzing every time the puck changed possession, with plenty of standout plays and stellar goaltending.
Following the two days of preliminary play, 10 teams emerged to qualify for a spot in the Championship Final on Sunday in their respective brackets. While none of the championship games required overtime, each matchup was hard-fought and competitive, and when the final horn sounded, Delta's topped The Chop in the Gold Division, 3-1; Busch Snipers bested Sargent Appliance in Silver I, 4-2; Eastside Kings beat Marlboro Reds in Silver II, 4-1; Barons edged Hamilton Mustangs in Bronze I, 2-1; and Solid Gold outlasted Polar Ice in Bronze II, 4-1.
For complete tournament results, visit our STANDINGS page. Congratulations to our five champions and five runners-up, and thanks to all 30 teams competing for the 2021 MSE Cup!
| | |
| --- | --- |
| | |
| 2021 MSE Cup champs in the Gold Division — Delta's | 2021 MSE Cup champs in the Silver I Division — Busch Snipers |
| | |
| --- | --- |
| | |
| 2021 MSE Cup champs in the Silver II Division — Eastside Kings | 2021 MSE Cup champs in the Bronze I Division — Barons |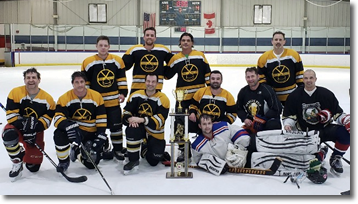 2021 MSE Cup champs in the Bronze II Division — Solid Gold
A REMINDER: DRESSING ROOM SECURITY
It's always a good time to review some routine precautions all teams should follow when using the dressing facilities:
Lock the Room When You Leave It!
That's especially true when the dressing rooms are not visible from the ice surface — but it ALSO applies to arenas where the dressing rooms ARE visible from the ice. During the game, all eyes are focused on the action on the ice, not the dressing room doors. Thieves have been known to enter dressing rooms in full view of the players and spectators — and get away with it. And, remember that arena dressing rooms typically share a shower/lavatory facility with an adjoining dressing room. So, be sure to deny thieves the "back-door" access to your dressing room by securing the shower room door as well.
Don't Carry Large Amounts of Cash!
A full wallet is an open invitation to a thief. Players should carry a driver's license (in case there's a roster check) and enough money to pay for their ice — period. Large ice payments, of course, are best handled by a check or money order, and it's always wise to make any payment BEFORE the game — rather than leave a room full of cash when a team takes the ice. And treat your credit cards the same way you would a large amount of cash — leave them at home.
Don't Force Open the Doors!
If you find yourself unable to enter the dressing room, seek out a rink employee or someone from MSE. Don't try to force the door open! Not only will your team be responsible for the cost of repairing the door (which isn't cheap), a broken door is an inviting opportunity for a thief later on.
Return Your Keys!
We know it's a hassle to leave your car/house keys when picking up a dressing room key — but there's a reason almost all arenas do it. Having extra dressing room keys leave the building is an obvious security breach and an invitation to trouble. Remember to always return your key as you leave the arena.
Following these simple procedures should help to keep the dressing rooms secure and minimize the risk of anyone becoming victimized by a thief.
MSEHOCKEY.COM — 23 YEARS OLD AND STILL SETTING RECORDS!
Now more than two decades old and faster and more functional than ever, the Michigan Sports Enterprises website continues to be "the" adult hockey online resource in Metro Detroit. Since it went live in April 1998, msehockey.com has logged more than 36 million total hits, including an all-time record of more than 800,000 in March 2019! MSE was the first adult hockey program in Michigan to provide its teams and players with online access to scores, standings, schedules, etc., and while the regular maintenance and updates aren't easy or inexpensive, msehockey.com has more than proven its worth to our teams over the years.
Remember, your team can become a part of our website for just $99 a year — that works out to about 27 cents a day and less than $2 a week. For that small expense, we'll link any team site to our "TEAM" page and give any one team sponsor a link to our "SPONSOR" page as well. If your team or your sponsor are interested in this great and inexpensive opportunity to get some added exposure, just drop us an e-mail at info@msehockey.com.